"I feel no different in health, stamina and energy then I did when I was in my late 20s and early 30s" - Roy Hilligenn, 77

Roy Hilligenn, a Marvel - Then & Now

By Clarence Bass


Roy Hilligenn, the 1951 Mr. America, was one of my boyhood heroes and now, at 77, he's still one of my all-time favorites. In the early 1950s, Roy not only had a knock-'em-dead physique, which adorned the covers of all the muscle magazines of the time (some several times), he was arguably the strongest man in the world for his size. Weighing 173, he equaled the world record in the Clean & Jerk with a lift of 375 pounds. The nearby photo shows Roy Clean & Jerking 405 at a slightly heavier body weight, also an unofficial world record at the time. What's more, Roy told MuscleMag International magazine last year that he believes he could have done 440 or more, if he had specialized on lifting and had better coaching.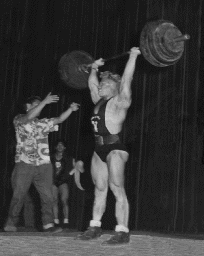 Roy with 405 overhead, a world record!
(Photo courtesy Roy Hilligenn)
Great as those early achievements were, Roy's over-70 performances may be even more noteworthy. As I wrote in Challenge Yourself, "When it comes to physical strength and stamina, Hilligenn has given new meaning to the word longevity."
As detailed in Challenge Yourself, Roy was the proverbial "90-pound weakling" when he began training with weights. At 18, he weighed only 83 pounds after falling off a four-story building and spending nine months in the hospital.
Working out with a homemade set of weights given to him by a neighbor, Roy's weight climbed gradually at first, from 83 pounds to 101 in the first year, and then spurted to 159 by the end of the second year. Obviously, weight training agreed with him.
The rest, as they say, is history. He won the Mr. South Africa title in 1943, 1944, 1946 and 1976. He was also the first South African to Clean and Jerk double body weight. His lifts in 1946 were 245 press, 255 Snatch and 321 Clean & Jerk. As mentioned earlier, he won the Mr. America title in 1951--he was born in California, but grew up in South Africa--and eventually did a 405 Clean & Jerk.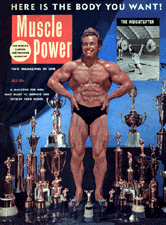 Roy makes cover of Joe Weider's Muscle Power after Mr. America win.
(Photo courtesy Roy Hilligenn)
Roy has always had amazing stamina and recovery capacity. His six-day-per-week workouts prior to the Mr. America contest are legendary. Monday, Wednesday and Friday he did bodybuilding exercises from 9:30 a.m. to 2 p.m., and then returned to the gym for a second session from 5 p.m. to 8 p.m. And as if that wasn't more than enough, he practiced the Olympic lifts on Tuesday, Thursday and Saturday in preparation for the U.S. national championships, which were held in conjunction with the Mr. America contest. (Even though he sprained both wrists badly a few days before the contest, Roy still placed second to then world champion Norbert Schemansky.)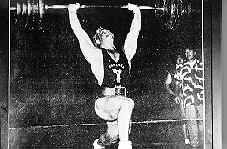 Another photo of Roy's 405 C&J
(Photo courtesy Roy Hilligenn)
Roy's Training Poundages, A Comparison
In a far-ranging interview in the May 1995 issue of Iron Master (edited and published by Osmo Kiiha, (1-541-667-8123) Roy listed his training poundages in standard bodybuilding exercises prior to the 1951 Mr. America contest. The table below compares those poundages with the poundages Roy used at age 54 while preparing for the 1976 Mr. South Africa contest, as given in an article by my South African friend Cecil Grigst in IronMan magazine, and the poundages which he uses now, as detailed by Roy in a letter to me late last year.
1951 (29) 1976 (54) 1999 (77)
| | | | |
| --- | --- | --- | --- |
| Full Squat | 420 x 10 | 400 x 8 | 240 x 8 |
| Bench Press | 250 x 10 | 320 x 8 | 230 x 8 |
| Seated DB Press | 90s x 10 | 90s x 8 | 140 (BB) x 8 |
| Dumbbell Row | 155 x 10 | ? | 110 x 8 |
(Roy generally does 3 sets of each exercise with progressively heavier weights. To simplify the comparison, we show only his top weight in each exercise.) Remarkable, to say the least!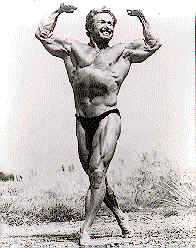 Roy at 54, after winning the 1976 Mr. So. Africa
(Photo courtesy Roy Hilligenn)
An even more impressive, mind-boggling actually, indication of the strength and endurance Roy has retained is a feat performed in March 1995, when he was 72. Here's what happened, as Roy related it to me in a recent letter.
"We had a contest for the Deadlift, doing repetitions; no belt, and no straps were allowed. The finalists were a man who weighed 264, one who weighed 235, and [me] at 165. We had to take a 400 pound barbell, and see how many reps we could do; we could take 2-10 seconds rest to re-grip the bar. The first man [235 lbs.] could do only 9 reps, claiming back trouble, the big guy did 29 reps and I did 35 reps."
A Lifelong Vegetarian
Roy credits diet for a large part of his amazing strength and vitality. "I believe being a vegetarian all my life is a secret to [my] youthful countenance and longevity and perfect health." Roy says he has "never" eaten, turkey, fish, chicken or red meat. "I truly believe," says Roy, "that fruit is the body's cleanser, vegetables are the bodies healer, and meat is the bodies premature aging agent."
My friend Jeff Novick (a/k/a Chef Jeff), director of nutrition at the Pritikin longevity Center in Florida, frequently extols the health-giving benefits of fruit and vegetables in his Weekly Health Update. In his Jan. 16 issue, Jeff cites a recent study conducted by the Fred Hutchinson Cancer Research Center in Seattle, which found that just three daily servings of vegetables cuts a man's risk of prostate cancer nearly in half. Jeff says there are many studies showing that the consumption of fruits and vegetables protects against cardiovascular disease, diabetes, stroke, obesity, diverticulosis and cataracts. When it comes to diet and health, it sounds like Roy has been on the right track for all of his 77 years. What's more, Roy's experience suggests that meat is not essential to building a strong and muscular body.
The wonderful physique Roy developed - without eating meat.
(Photo courtesy Roy Hilligenn)
Always Wanted to be the Best
Roy has always had a strong desire to excel and a tremendous competitive spirit. He recently told MuscleMag "Star Profile" contributor Lorie Grannis that he can remember saying to the other children in the orphanage where he spent 11 years, "I want to be the strongest man in the world." And that was before he discovered weights!
In the same interview, he told Grannis, if he was competing today, "I would've been Mr. Olympia... I do think I would be that good." Obviously, Roy's confidence hasn't waned over the years. He still believes in himself.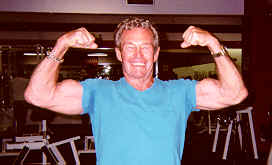 Still the Best at 77!
(Photo courtesy Roy Hilligenn)
As related in Challenge Yourself, Roy has always been ready for a challenge. He used to boast to anyone who would listen: "I can do anything you can do - and better." He says now, "I always wanted to be greater than I was. I could already beat everyone in athletics, but I wanted to do that with everything."
Clearly, Roy has never stopped challenging himself. He's truly an inspiration to everyone interested in lifetime fitness and vitality.
Take a cue from Roy. Challenge yourself!
(Roy Hilligenn owns and operates Roy's Fitness Center, 1754 East Edgewood Drive, Lakeland, Florida 33803, where he offers "appointment only" personal training. Drop in and see him if you're in the area or give him a call at 1-863-688-5393.)
Copyrightę2000 Clarence and Carol Bass. All rights reserved. Reprinted with permission by The Vegetarian Bodybuilder.
Back To Vegetarian Bodybuilder Homepage